A hundred days have made me older
since the last time that I saw your pretty face.
A thousand tears have made me sober,
and I donít think I can look at life the same.
But all the miles that separate.
They disappear now when Iím dreaming of your face.
Iím here without you Cilla but you're still on my lonely mind.
I think about you Cilla and I dream about you all the time.
Iím here without you Cilla,won't you come to me in my dreams
In my life girl,it's only you and me.
.
The miles just keep rolling as the people keep on living life their own
I've heard this life is overrated so I'll keep on looking to you as I go.
Iím here without you Cilla but you're still on my lonely mind.
I think about you Cilla and I dream about you all the time.
Iím here without you Cilli but you're still with me in my dreams.
And tonight girl itís only you and me.
Everything I know, and anywhere I go, it gets harder, but it wonít take away my love.
As my life crashes down.
And itís all said and done.
It gets hard but it wonít take away my love.
Iím here without you Cilli but you're still on my lonely mind.
I think about you Cilli and I dream about you all the time.
Iím here without you Cilli so please come to me in my dreams.
In my life girl, itís only you and me.
~~modified from Here Without You ~~3 Doors Down ~~
You are my soul mate
You know I wouldn't be here if it weren't for you and your love.
You saved my life,princess.
I only wish I could have done the same for you.
Part of me died that day with you.
I vow to you that I won't give up on life,
even tho I have to try to move forward without you.
I will always love you
and nothing anyone says or does will ever change that.
All my love, Mommy
Oh Cilla, I miss you. I miss you looking into my eyes
I miss your paws touching my face.
I miss your tongue licking my salty tears.
You mean the world to me, you always have.
I still can't believe you are gone. I love you so much.
It hurts so very much that you aren't here, and I'd give anything to be with you again.
I always told you I never knew what I'd do without you.
And it was so very true.
You are my sunshine, my light, my strength, my heart.
I love you, sweet princess.
Not a day goes by without some tears, but I can function again.
I see the world differently, I miss Cill terribly.
I feel pity for all the people out there who haven't loved anyone so much.
I miss Cilla every day, I miss her fur, her meows, the way she would get me to go to bed. and get up.
I miss holding her like a teddy bear to get to sleep,
with her little paws kneading up in the air.
Nothing, nothing can even come close to that.
And I cry. I think about that day at the vet and my whole body feels sick.
But I think about how much I love her and all the times
I miss her and I weep.
I don't know if that will ever stop, but loving her won't ever stop.
I talk to her each night before I go to sleep,
I even write to her sometimes in a notebook by my bed.
And I talk to her in the morning.
I can't wait till one night she graces my dreams. I will treasure that. But this is the worst pain I've endured in my 36 years. It scares me really.
At least I can cry.
"You left and forgot to tell my heart
how to live without you."
Not a night goes by that I don't touch your heart with gentle touches of love.
You are the face of caring and family that I hold dear and near.
Is not a seperation, in our hearts we still touch and dance in our dreams.
Mama not a day goes by that I don't touch your face with gentle kisses.
in the rays of the sun. I have not left you, always part of you.
On that day we bonded that was forever and always.
Not a mile goes by that I don't walk them by your side.
My steps will forever walk with you.
This life we lead has made us who we are.
Each lesson we learn helps us grow.
You have learned something some never get a chance to know.
True love, reach out and show them what can be.
For each heart you touch brings us closer to each other.
The miles will grow shorter.
Each smile you bring to another you also bring to me.
When all is said and done, my love is yours.
© J.C. Stewart~*~June 5, 2006.
I picture you in my dreams.
So real I can see you right here it seems.
I can feel you all around me every day.
The things you did in your own special way
Come to mind everywhere i look it seems.
Each night I pray to see you in my dreams.
Thoughts of you comfort me and ease my aching heart.
Helping me through the time we have to be apart.
I know one day your sweet face I will once more see.
And on that day there will be no more tears for me.
Except for ones of everlasting joy in my heart.
Knowing we will never again be apart
© ~~Kathy Hayes aka Katie~~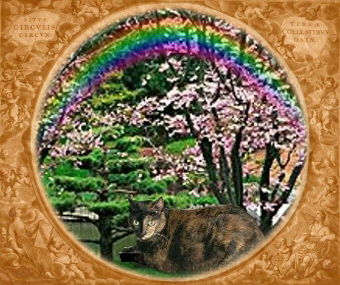 Just after the storm,
We see a rainbow above
It speaks to us of peace
It speaks to us of love
The sky that had been grey
Suddenly turns bright
And weíre bathed in the glow
Of the rainbow colored light
We see the mood has changed
In this very short span of time
From all the fury and anger
To peace that is truly divine
We see the rainbow glowing
See how it lights the skies
It brings a feeling of hope
As itís reflected in our eyes
The rainbow-colored mural
There for all to share
Was put there as a promise
By the one who really cares
© Carol aka Nashoba Ahalaia
May, 2006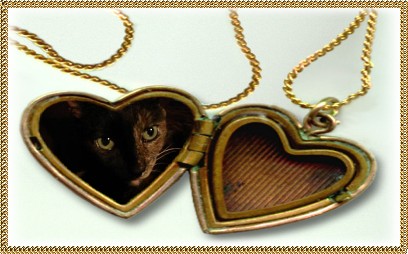 This page was created by


and is given with love from our hearts to yours.
If you,the artist,deserve credit for anything
used in creating these pages for hurting hearts,
please let us know immediately
and we will promptly take care of it.